Holidays
Live An Unforgettable Valentine's Day At Your Tropical Paradise
You can celebrate love all 365 days of the year, but it's always nice to do a little something extra to commemorate your partner on Valentine's Day, and there is no better place to spend it than in sunny Puerto Rico.
This year, Fairmont El San Juan Hotel is offering a series of new romantic experiences for couples, loved ones, and Valentine's Day offerings for friends. Valentine's Day at Fairmont El San Juan Hotel will offer everything from new treatments at the stunning Well & Being Spa, private seaside cabana menus, romantic dinners at Caña by Juliana Gonzalez, and a Bruno Mars tribute band at The Lobby.
Side-by-Side Couples Massage
Valentine's Day is the perfect day to relax and disconnect from the daily stress of life. At Fairmont El San Juan Hotel, you can enjoy a new Romantic Tropical Escape at the Well & Being Spa this February. The couple's massage includes a side-by-side massage for relaxing time together. Couples, friends or family can enjoy this treatment, while they celebrate love.
Galentine's Day Spa'rty
For friends traveling or gathering together, Well & Being Spa is offering a 'Spa'rty' for groups of friends. This includes access to amenities such as the spa pool, fitness center, classes, dry sauna, and food and beverage options. Raise up your glass, and cheers to love and friendship!
Ruby Red Love Mask
Change the routine and dare to do something different this Valentine's Day! If you want something unique to tell your friends, add a creamy gemstone mask to any facial at the Well & Being Spa for the ultimate boost. The Ruby Red Love Mask is infused with the passion of precious ruby and rejuvenating dragon's blood leaving you feeling invigorated and revitalized. Ruby is used to embrace the passion, love and vitality associated with the precious stone while dragon's blood is named after the deep red sap of the Croton Lechleri tree, with extract that has long been recognized for its rejuvenating properties. Copper is also used, which is a mineral that helps target elasticity and reduce the appearance of fine lines and wrinkles.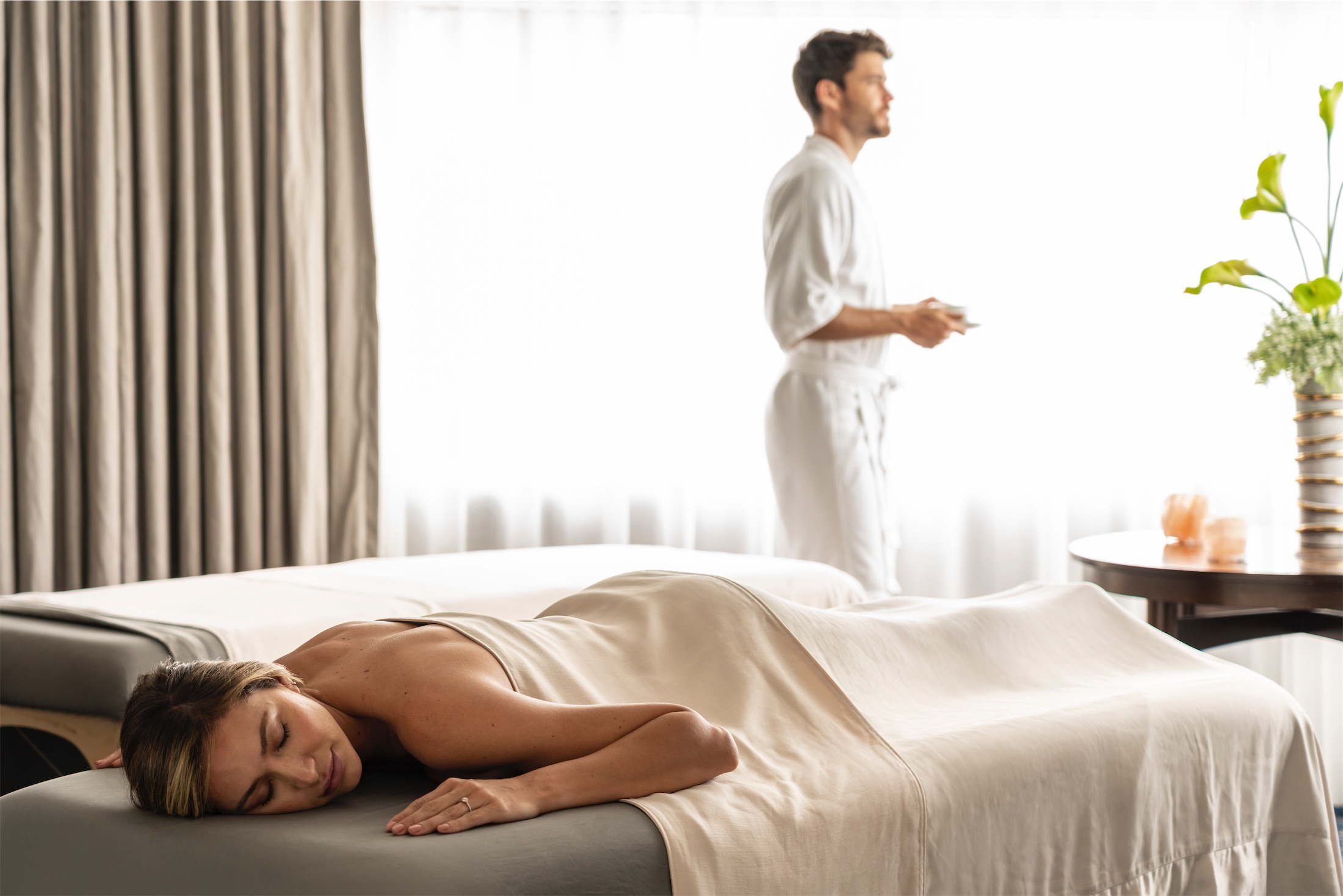 Stay at the legendary Fairmont El San Juan Hotel
Celebrate love in style with the new Grand Romance Package at Fairmont El San Juan Hotel. This package includes luxury accommodations, breakfast served in-room or at Caña by Juliana Gonzalez, a bottle of champagne and chocolates upon arrival, and a guaranteed late 2:00pm check-out.
Romantic Private Cabana Experience
Enjoy a different sunset dinner experience with a special 4-course private Cabana Valentine's experience. Luxuriate next to your soulmate or loved ones in one of the cabanas by the crystalline pools. Located in front of the award-winning Isla Verde Beach, delight with an exclusive 4 course-tasting menu and a bottle of Dom Perignon. Each cabana will be decorated with roses and served a special Valentine's Cabana menu inclusive of items such as lobster and filet mignon. Live a real Valentine's experience that you will treasure in your heart forever.
A Story of Love Dinner at Caña by Juliana Gonzalez
The extraordinary and romantic 4-course Dinner at Caña by Juliana Gonzalez will be available on Valentine's Day. The 4-course dinner experience includes one bottle of Veuve Clicquot Champagne, a rose, and a delicious chocolate box. What are you waiting for? Taste the flavors that make our celebrity chef stand out around the world.
The iconic Lobby
Sing and dance to the rhythms of Bruno Mars at The Lobby as a warm-up for Valentine's Day on Friday, February 11! Let's set this party off right! To keep the party going on Valentine's day, delight with a Veuve Cliquot Champagne bottle with your loved one under the majestic Chandelier. Hand-blown in Czechoslovakia, this unique piece of art weighs 4,000 pounds, has 185 lightbulbs and 7,000 pieces of glass; it is the third largest Czech crystal chandelier in the world. Enjoy the night under this work of art, and don't forget to take your picture for the everlasting memories!